Asbestos remediation can be a costly task, but West Four can assist in controlling these costs. We can undertake the necessary work on your behalf to identify the best options and the best contractors from our list of approved suppliers. All contractors have been vigorously vetted and completed a pre-qualification questionnaire to ensure the highest standards are met.
We can identify a cost-effective and detailed strategy that may include one or more of the following:
Licensed Asbestos Removal
Through our network of pre approved licensed asbestos removal contractors, we can offer and project manage licensed asbestos removal projects. With years of experience behind us, we know that no two projects are the same! We provide a bespoke and friendly service to meet your every requirement within a timely manner.
Asbestos abatement is one of the most highly legislated services in the UK. The work will be specifically tailored to your desire, resulting in minimal disruption to your operations. We will appoint a specific project manager that will deal with your project on a day to day basis should you require at an additional cost.
All licensed work is subject to a 14 day HSE notification, along with detailed risk and site specific method statements. Our team will do this on your behalf once appointed.
Depending on the amount of asbestos material being removed, one of our team will usually need to visit the site to make a full assessment (free of charge) to provide you with an accurate quotation.
Detailed below are some of the steps and processes associated with licensed asbestos removal:
A mobile decontamination unit is set up in place as close to the work area as possible.
A timber enclosure constructed around the work area, the timber studding is then sheeted with 1000 gauge polythene and sealed with cloth tape. This prevents the spread of asbestos when removal work is taking place.
A three-stage airlock system for personal decontamination is then asbestos is placed onto the enclosure.
The area then gets placed under negative pressure.
The asbestos gets removed in accordance with asbestos regulations and the site specific method statement.
The enclosure gets cleaned using specialist HEPA vacuum cleaners. All surfaces are wiped down and cleaned.
We then arrange for an independent UKAS accredited analytical contractor to carry out the final process to ensure the work area is safe for re-occupation.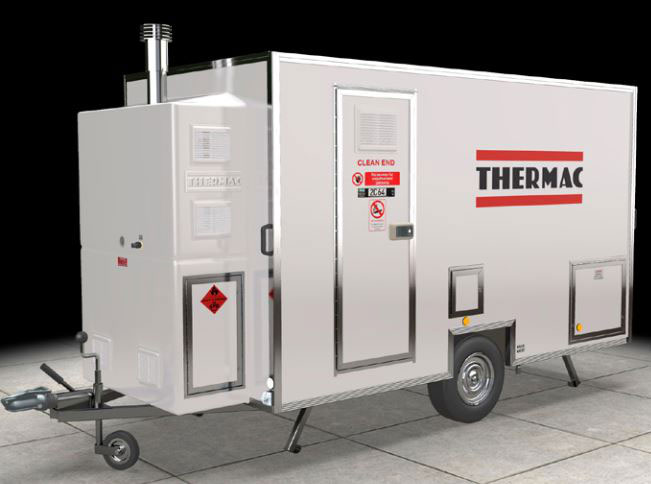 The mobile decontamination unit which is used.

The timber enclosure, sheeted with polythene and the thee stage airlocks.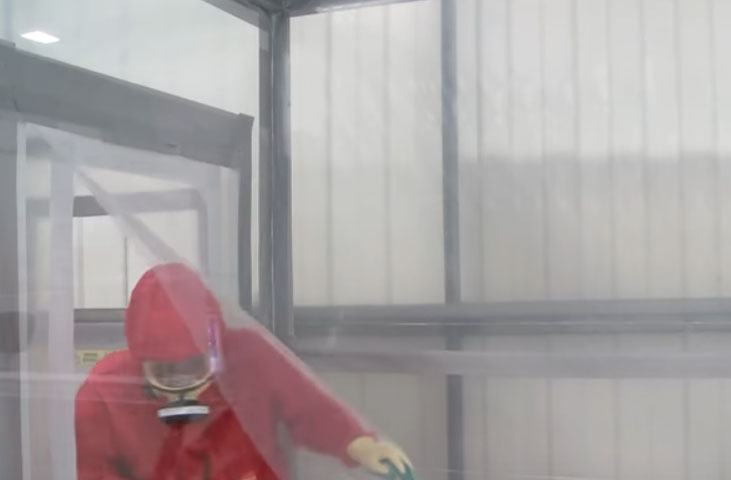 The asbestos operative entering the enclosure.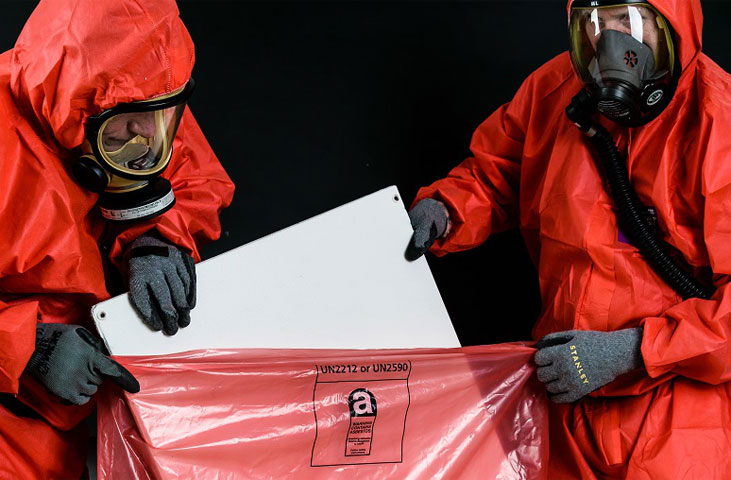 The asbestos operatives placing the waste into UN approved asbestos bags.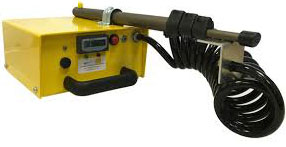 The air sampling pump used to measure the ambient fibre levels to see if the work area can be re-occupied.
Non licensed asbestos removal
We at West Four can carry out the removal of non licensed asbestos materials and notifiable non licensed work in house. Our staff have received Category B non licensed removal training to ensure that asbestos is removed safely and in accordance with current legislation.
The waste will then be taken to a licensed waste transfer station where you will receive a waste consignment note.
We follow the table below when assessing the work to ensure that safety is always our top priority.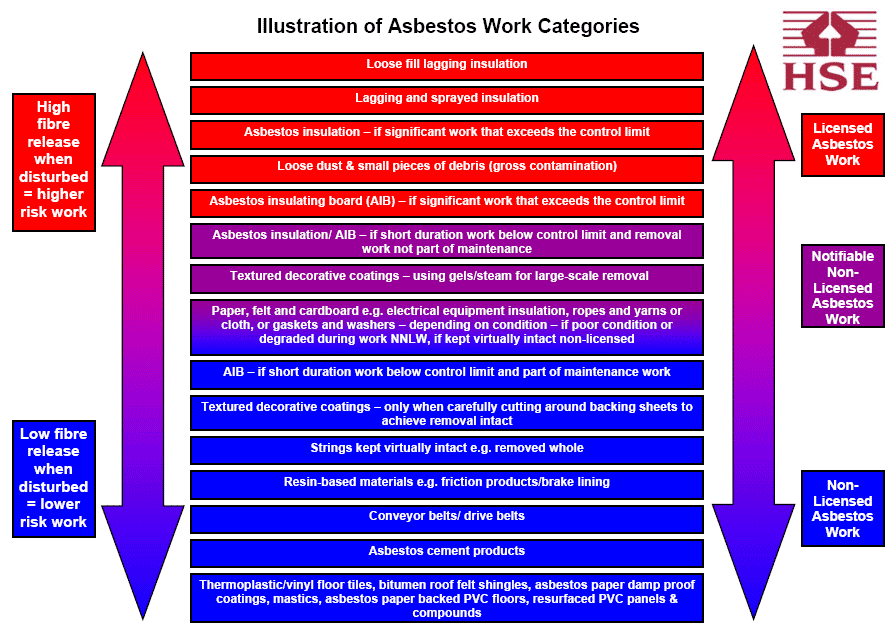 Encapsulation
We at West Four always advise on the best and most cost effective solution to manage your ACM's (Asbestos Containing Material) on site.
Asbestos may not always require removal, therefore we may be able to offer encapsulation as a solution providing the following is in place.
When removing an ACM proves difficult to remove (whether or not the material is going to be disturbed for planned renovation or not practical to do so) then encapsulation is a proven method that can be used. Encapsulation should only be considered if the ACM is in good condition.
An encapsulant known in the trade as "ET150", when applied using multiple layers is suitable for managing asbestos insulation materials, asbestos boards, and sprayed coatings. It is a high quality polymer emulsion thatis easily applied by spray or brush to provide a durable and flexible, water resistant finish over a wide service temperature range. ET150 has Class 0 Compliance and therefore dries to form a flame-resistant finish.
Domestic Asbestos
The below illustration highlights where asbestos can be found in your property. We at West Four can arrange for these to be managed or removed as previously mentioned.
You may be surprised to see where asbestos may be hiding!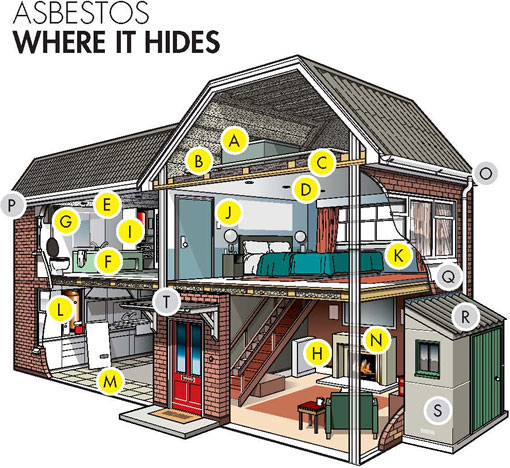 Inside
A. Asbestos cement Water tank
B. Pipe lagging
C. Loose fill insulation
D. Textured decorative coating eg artex
E. AIB ceiling tiles
F. AIB bath panel
G. Toilet seat and cistern
H. AIB behind fuse box
I. AIB airing cupboard and/or sprayed insulation coating boiler
J. AIB partition wall
K. AIB interior window panel
L. AIB around boiler
M. Vinyl floor tiles
N. AIB behind fire
Outside
O. Gutters andAsbestos cement downpipes
P. Soffits – AIB or asbestos cement
Q. AIB exterior window panel
R. Asbestos cement roof
S. Asbestos cement panels
T. Roofing felt
AIB = Asbestos Insulating Board
Asbestos in soils
We can assist you with asbestos management guidance and any remediation work required by providing quotations from our approved list of contract's following a detailed specification to ensure the client is getting best value for money and assist the client in appointing the nominated contractor.
All remediation programmes differ in the size of the project, the client's scope of work and the asbestos which has been identified. we will assist you to tailor your services to the needs of your project.
Detailed guidance and information on the management of asbestos in soil the ground can be found in Control of Asbestos Regulations SOIL Guidance. Please feel free to contact us if you require assistance with any soil or land remediation.